Sometimes blogging can feel like a lot of work, with very little reward. Bloggers tend to put our lives out there and subject ourselves to public scrutiny, usually just in the hopes of making connections with friends and readers. I'm so lucky that this little piece of the internet has been such a positive place, filled with support, encouragement, love, laughter, understanding and honesty. I absolutely love getting comments, likes and emails from anyone that's read this blog (that's YOU!) and I always try to reciprocate the love by visiting your blogs, emailing you back or reaching out in some way. And every now and then, real friendships start to form over common threads and this big giant world we live in becomes a little smaller.
A few weeks ago, a couple of my favorite blog friends (
Elizabeth
,
Courtney
&
Jenny
) organized a Mommy & Me Secret Santa book swap as a fun way to introduce bloggers to each other and pass on their love for reading for both mom and baby. I love participating in things like this because I love giving gifts and getting to "meet" new bloggers in the process. This blogging community is filled with so many wonderful women and mothers - I'm just blessed to be a part of it and I love getting the opportunity to make connections with other moms with kids the same age that "get" what I'm going through on a daily basis. And I especially loved this book exchange because not only did the kids get a fun new book, but the mamas got a little something special as well. I can't say no to a good book (even though it's been WAY too long since I've read one).
We were lucky enough to get a wonderful book package from the amazing Stephanie at
Wife Mommy Me
. She's another book lover and mama to an adorable toddler boy (with the best name ever). Stephanie sent us three books,
Frosty the Snowman
for Mac,
Where Is Baby's Present
for Mim and
Inferno
for me. Ever since our photographer had us read a Frosty book during our fall photo shoot, Mac has been obsessed with Frosty. We've watched the movie a dozen times, so this book is perfect for him. I've been wanting to get my hands on Inferno for a while, so I'm thrilled with my choice. And I wasn't even expecting Mim to get a gift (she's more into eating the book than reading it), but it was so sweet of Stephanie for included her as well. She loves her book and thinks it's delicious! Thank you SO much Stephanie!
And we got to pick out some books for Nina and Ezra from
The Joni Journey
. Head over to Nina's blog to see what we sent them (and wish her congrats on her big announcement!). I hope they like it!
This is just one of THREE fun Secret Santa gift exchanges I'm participating in this season.
Woo hoo!
More to come on the others soon.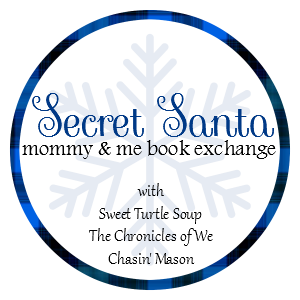 Are you doing any Secret Santa swaps this year?