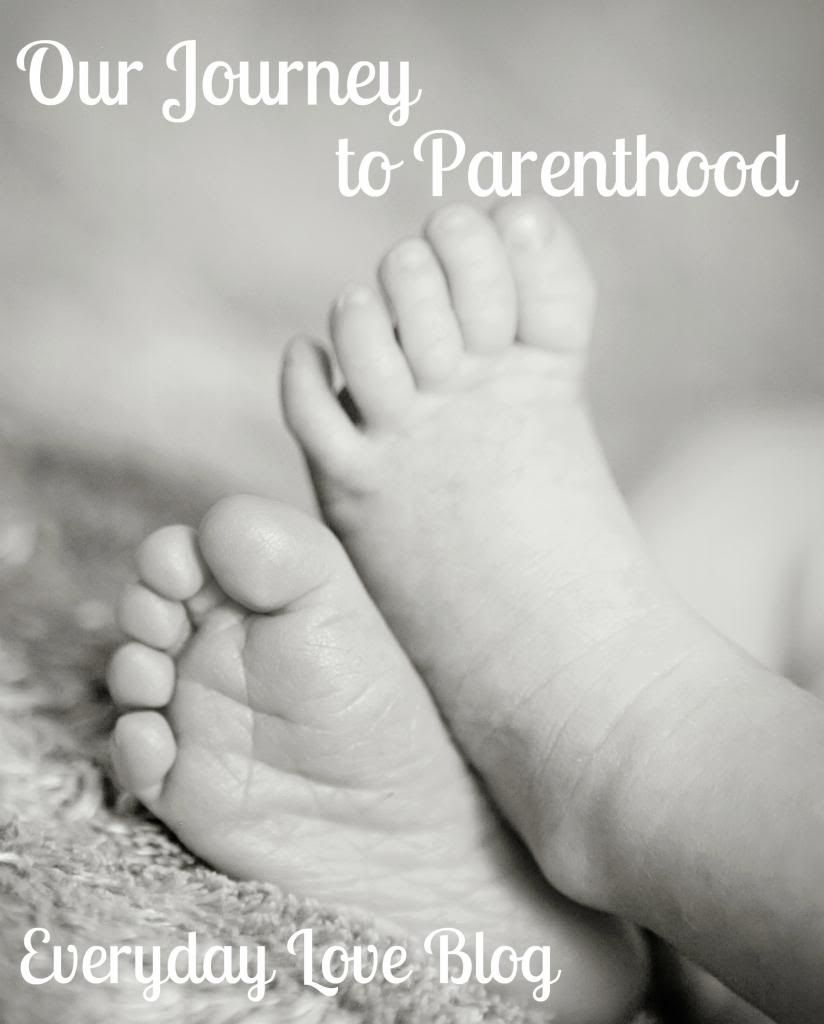 Hello Friends! Today I'm honored to be guest posting over at
Everyday Love
in a series Leah is hosting called
Our Journey to Parenthood
about the struggles we go through to become parents.
Her goal for this series is to show readers that they are not alone when struggling with infertility and/or miscarriage.
As a new mom and a member of that awful miscarriage club, this series is something that Leah truly understands and she and I both feel passionate about. Sharing our heartache and struggle with you is not only a great way to heal, but it's a wonderful way to connect with others who might be going through a similar situation and feel lost and alone.
It seems really appropriate that I share our story right now, since October is National Pregnancy Loss and Infant Loss Awareness Month.
This is the first time I've written out exactly what we went through to get Mac. My story isn't nearly as long and difficult as many other women's, but it was painful nonetheless to experience it and brought back a lot of heartache and raw emotion as I relived it to write the post. I've always been slightly hesitant to put our story down in words for fear of being judged or ridiculed for something so personal and deeply important to us, but I'm looking at this as a healing exercise to deal with some of the pain leftover from our experience as we get ready to begin our journey all over again in hope of having another baby someday. As I've said
before
, dealing with infertility this time around feels much different, but it's still a daily struggle to remain positive and hopeful. I have my good days and bad days, like everyone else. I hope that by sharing my story and some of the emotions I experienced I can help someone else out there that might also be struggling. And despite the fact that we're going through this again, I feel like my story is one of inspiration...because at the end of the day, there's a beautiful baby boy waiting for me at home. Regardless of what happens next, my story has a happy ending. I hope with all my heart that everyone else's does too.
Below are few snippets from my post.
I'd love it if you'd sneak over to Everyday Love to read the rest of my story and let Leah know what a wonderful series this is. I'll love you forever.
"What can I say about our journey to parenthood? It starts out probably just like everyone else's...I spent my 20's being careful - basically terrified of getting pregnant before I was "good and ready." I studied/worked hard and got a great job, I met and married the perfect man, I went off the pill and (at the ripe old age of 30) we started "trying" to get pregnant. It was fun! We talked about our future baby all the time, we got excited that this would be the month, we talked baby names and had the whole private vs. public school debate. And then it didn't happen. Month after month it didn't happen and I really started to get nervous..."
"At some point in our struggles to get pregnant I read an article on infertility that said something along the lines of, "if you want to be a mother, you will be a mother – you will find a way to make it happen." This really stuck a chord with me. I was completely open to the idea of adoption, or surrogacy or doing whatever it took to get a child into our home. Of course I wanted my own children with my husband, but if that didn't work, there were other options to exhaust. I was so focused on "getting pregnant" that I wasn't thinking about the ultimate goal of just being a mom. Maybe we'd do an overseas adoption? Maybe we'd get an egg donor? Maybe we'd adopt a 10 year old that's never had a real home? It didn't matter how it happened, but I knew right then that I'd make it happen and one day I would be a mom. That was the goal. That realization changed everything."